Omroep Brabant Radio Interview
Transcript Loosely translated to English
Interviewer: Max Krukziener, Radio Omroep Brabant, 30 July 2003
Location: Siteur Kaasspecialist, Hermanus Boexstraat 26, Eindhoven, NL
MK: This morning the black US artist Carmin Karasic was walking thru the streets of Eindhoven in a traditional Volendam costume. The purpose of this walk was to get photos for postcards with the text "Greetings from Eindhoven". The cards will really be sent. And why are they doing this? To make Americans aware of their stereotypes about Dutch people. This project is part of Ms Karasic's graduate studies at a University in Boston.
Reporter Max Krukziener was at a photo session in a cheese shop.
(sounds of wooden shoes) There she enters the cheese shop.
CK: Good Morning.
MK: Good Morning. You have to imagine a Negro wearing wooden shoes and she is going to say her name is "Antje" because she's dressed in traditional clothes from Volendam. And she's wearing such a hat over dreadlock. And now she's standing in the cheese store and she's going to ask...
CK: Um, I am Carmin Karasic. I would like... Do you speak English?...
Siteur employee: Ah, Yes
CK: I would like to know if we could allow my photographer to take a picture of me pretending to work here. OK?
Siteur employee: Yes.
MK: And you are here the real Cheese girl.
Siteur employee: Yes
MK: And you do look normal. What do you think about this?
Siteur employee: I think it's funny.
MK: Funny?
Siteur employee: Yes.
MK: What strikes you first when you see her?
Siteur employee: Traditional clothing, huh?
MK: Nothing more?
Siteur employee: Yeah, that she is dark and that she's wearing traditional clothes.
MK: Dutch clothing with dreadlocks.
Siteur employee: It's not a common image.
Customer: Can you help me? I want to have a piece of French cheese.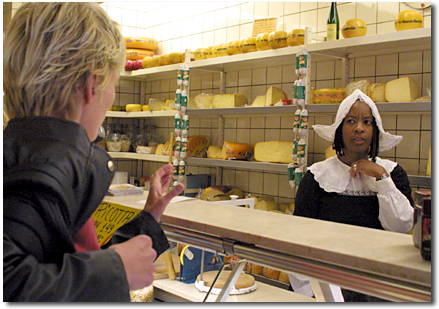 CK: French cheese?
Customer: French cheese! You started working here recently?
CK: yes.
Customer: You haven't worked here long!
MK: Madam, you just walked in here. Do you come here often?
Customer: I come here very often.
MK: And what do you think of her?
Customer: Such a black American woman; she's been working here a short time, I think.
MK: In traditional clothing!
Customer: In traditional clothing! Yes. Special, very special, I want to say.
MK: I think it's something to laugh about. It's a bit strange, don't you think so?
Customer: ...Yeah, that's correct. In Eindhoven, such a Dutch woman because she looks that way...
MK: But she is a Negro with dreadlocks.
Customer: Yes, that's right.
MK: You are a bit bewildered.
Customer: I am a bit nervous because of the microphone under my nose!
MK: Well, now it's my fault. That's always the case. Am I stranger than she is?
Customer: Yes, I would like if the cheese girls would look like this again. Maybe that would be nice. Maybe then for tourists we would be...
MK: And you are really working here. Would you like to dress like this?
Siteur employee: No. Definitely not! I would not feel like myself. It is a bit of an old fashioned image that you create. If you would do it for tourists... but not for myself.
MK: [The photographer is done.] How do people react to you?
CK: Ah, they smile. They smile and some say "Nice!" or "Beautiful!" So I think they like it somehow. You know, it's good! It's good.
MK: And I think you like it too.
CK: Yes, yes, it's fun! I am a performance artist. So, you know, it fits! I like doing things like this.
Radio Announcer: So and we enjoy that she likes to do this kind of things. That was Carmin Karasic and she was standing in a Volendam dress and wooden shoes in a cheese shop in Eindhoven. Max Krukziener made this report.